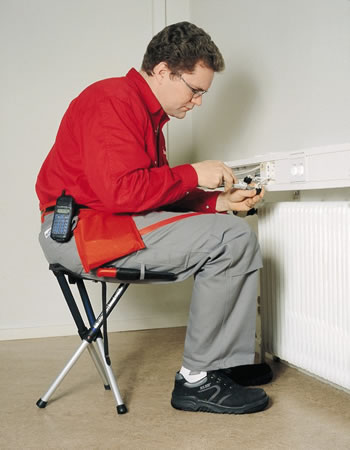 WALKSTOOL – the best and most versatile portable  folding stool on the market – excellent in workplace situations!
If you often work squatting or kneeling, then you're at risk of suffering from backache and knee or joint problems. Now there is a lightweight, portable stool that can take care of the problem, the folding Walkstool. It is small and light to carry but steady and comfortable when you sit on it.
The Walkstool's folding Telescopic legs mean that you can set the stool at two seat positions, or when working at low heights it can be used without extending the telescopic legs at all.  A unique folding stool, invented and made in Sweden using the best quality materials and equipped with a high tech seat. Walkstool relieves the pressure on your back and knees while working at low heights. Made especially for anyone forced to work often in uncomfortable positions, recommended by physiotherapists and should be seen as a piece of work equipment.
A Walkstool is the essential accessory for Press, Landscape, Sports, Fashion and Nature Photographers!